Economic cooperation is a priority for Vietnam and Azerbaijan after 30 years
5 min read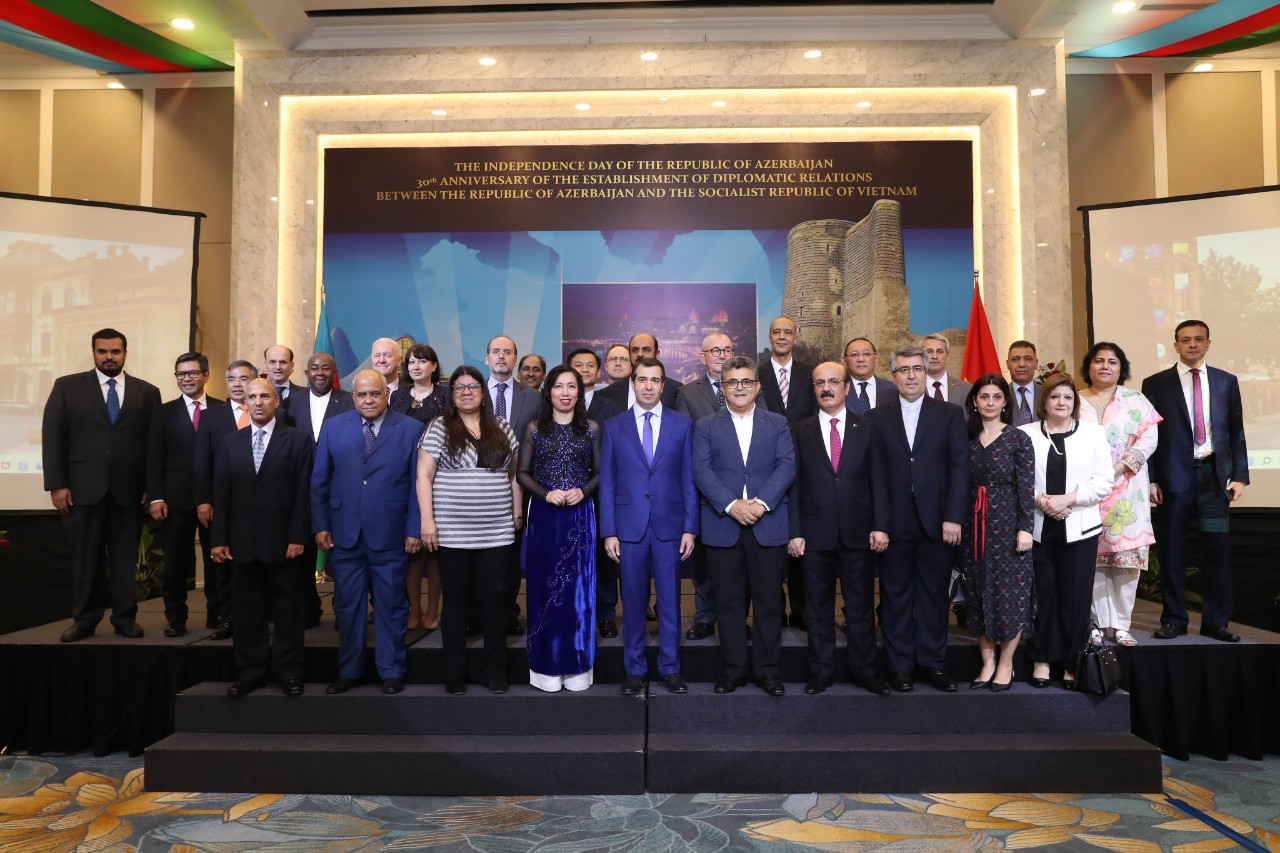 (VOVWORLD) – The relationship between Vietnam and Azerbaijan has developed strongly in recent years. Activities have boosted cooperation in all fields, especially in economics and trade. To mark 30 years of diplomatic ties, Azerbaijan's Ambassador Anar Imanov talked with VOV about his country's priorities in economic cooperation with Vietnam.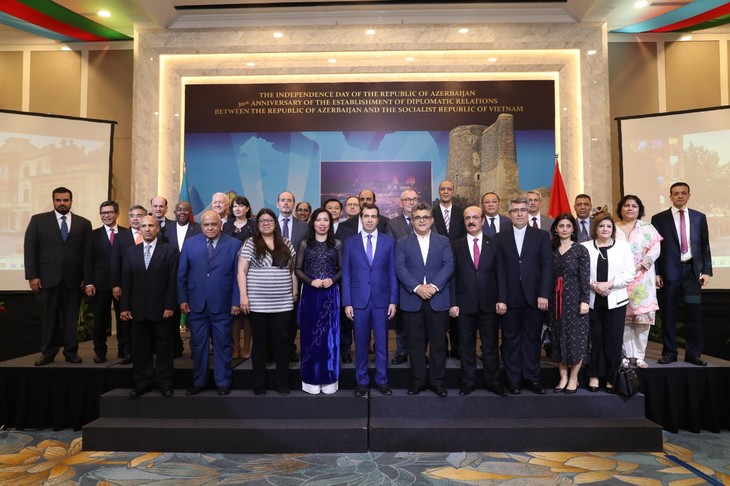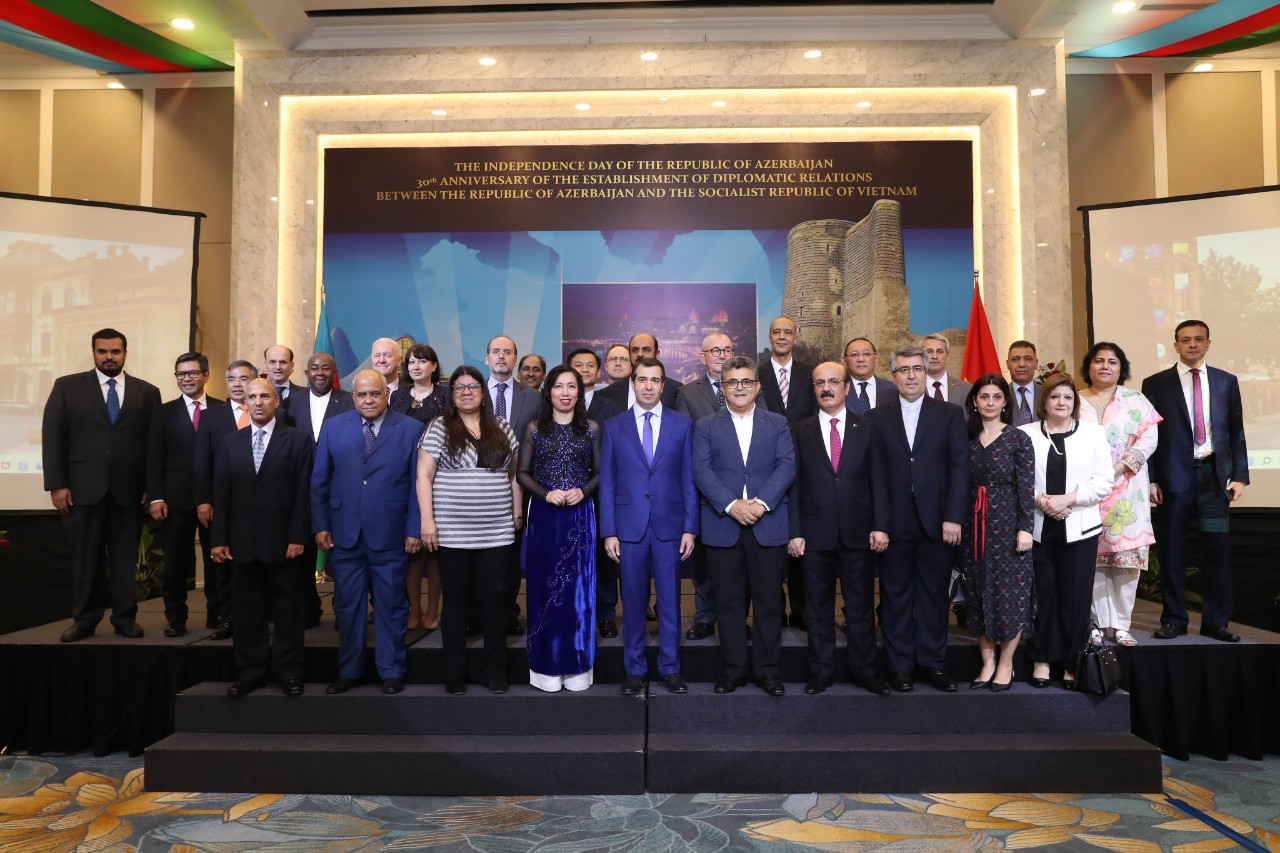 Ambassador Anar Imanov (C) at a ceremony in Hanoi on May 27, 2022, 
to mark Independence Day of the Republic of Azerbaijan and the 30
th
anniversary of diplomatic relations between Vietnam and Azerbaijan (Photo credit: Embassy of Azerbaijan in Hanoi)
Bao Tram: Thank you, Mr. Ambassador, for joining us today. This year Vietnam and Azerbaijan mark 30 years of diplomatic ties. There is well-developed cooperation between our countries in political and humanitarian spheres. What is your view of our bilateral economic and trade cooperation?

Ambassador: First of all, I'd like to emphasize that Azerbaijan highly values its relations with Vietnam and wants to further strengthen cooperation between the two countries in all spheres. As you correctly noted, relations between our countries are developing dynamically, political dialogue at a high level, cooperation in various international organizations is productive, and the humanitarian sphere is always in the spotlight. Along with this, the economic component of bilateral relations in the modern world, of course, comes to the forefront. An important role for developing economic relations between our countries has played the establishment of the Azerbaijan-Vietnam Intergovernmental Commission on economic, trade, scientific and technical cooperation. Despite the fact that the pandemic has significantly slowed down the activities of the Commission and it has been postponed for almost two years, a mutual agreement has been reached to hold its third meeting very soon this year. I'm sure that the upcoming meeting will give a great impetus to developing the economic and trade ties and will contribute to further strengthening the cooperation in science and technology. There is a huge need for this, as the two countries have big potential.
Bao Tram: What are the priorities for further economic cooperation between Vietnam and Azerbaijan?
Ambassador: It's a fact that Vietnam is one of the countries with the fastest growing economy in South-East Asia and it is of great interest for our country to develop trade, economic, and energy relations with Vietnam. Azerbaijan in its turn proves its status as the region's leader in many areas, including the successful implementation of energy, logistics, and transport projects of both regional and international significance. In strengthening the two sides' relations, I think our main goal should be the expansion of economic cooperation. Traditionally, the main sphere of economic relations between our countries is the energy sector. Now our priority number one is to expand trade and economic relations in different spheres, as well as increase imports and exports between two countries in non-oil sector.
Bao Tram: How should be boost exports to each other's market?
Ambassador: Due to the fact that both countries can be a new market for each other, there are many opportunities for export and import. I'll give just a few examples. Vietnam is among the top textile producing countries and apparel exporters in the world. So, the garment, shoes, and textile industry is one of the key industries in Vietnam with the second-largest export turnover in the country. Azerbaijan is also restoring and developing its textile industry. In parallel with this, Azerbaijan's richness in cotton production is helping to develop the textile industry. Taking into account that Vietnam imports almost 95% of cotton from other countries, so we can cooperate in this field. We hope that we would witness soon some joint ventures in both Azerbaijan and Vietnam.In addition, Azerbaijan also produces leather material, fabrics, threads, and silk. In turn, Azerbaijan can export shoes, ready-made clothes, tea, coffee and tropic fruits from Vietnam. We could work together to develop corporation in textile production. I think it would be quite beneficial for both sides. We see potential in agriculture. I think that we can work closer in agricultural sphere and again also the setting up of joint ventures in both countries.
Bao Tram: You suggested that Vietnam and Azerbaijan might cooperate in new areas – international transportations of goods, for example. Tell us more about that.
Ambassador: Thanks to its geographic location at the crossroads of several international transport corridors, Azerbaijan is increasingly developing into an attractive hub for international transit of goods. Various large-scale projects have already been made with a reality as part of the expansion of its infrastructure, particularly in the transport sector. The completion of the Baku-Tbilisi-Kars (BTK) railways in autumn 2017 marked the creation of an 449-kilometre direct rail link with Turkey, via Georgia. This means that the BTK project makes it possible to transport goods from Asia to Europe through our country, Azerbaijan, faster and with a better price. We think that the realisation of this project is an important step to solve the problem of increased rate of international transport. In addition to the above road and rail projects, maritime transport infrastructure is also developing in Azerbaijan. So, the largest port on the Caspian Sea is being built in Alat, 65 kilometres south of Baku. The port is also strategically located for road and rail traffic, being situated at the intersection between the international transport corridors travelling both from East to West and North to South. Another important event for Azerbaijan in the transportation sector was the reaching of an agreement with Kazakhstan, Georgia and Turkey for joint work on attracting transit goods. We now witness significant growths in transporting goods from China to Europe over Azerbaijan. We think that Vietnamese partners might also be quite interesting in sending goods to Europe through this route. Let me tell you that just before November 2020, Vietnamese companies used to send one container to Europe with a price of 20,000 or 30,000 dollars. Now the price varies between 13,000 and 14,000 dollars for one container.  You can imagine the difference: it's so huge. As Azerbaijan, we think that we can offer a new way which would significantly decrease time for transportation and make the price lower than now. 
Bao Tram: Thank you, Mr. Ambassador, for granting VOV24/7 this interview.